NEWS
NEWS
2022.04.04
HAKUBA SPRING SPECIAL MTB TOUR
■Price: 6,000 yen (MTB hire & tax included)
■Group of 2 - 8 people
■Time: 9:30 am - / 0:30 pm - (2 hours ride)
■Meeting: SPICY Iwatake
■Destination: Oide Park in Hakuba (Car transfer back to Iwatake)
■Special Spring Term: April 9 - April 26, 2022
★Booking Required
Please email or call SPICY Iwatake more than 1 day in advance.
2021.11.22
We have irregular opening hours at SPICY IWATAKE during the between seasons. Please call us before visiting to make sure we're open.
2021.07.17
We have applied anti-viral & bacterial coating on our shop space and rentals.
We use KINO SHIELD for coating, which is safe for human so that customers can feel safe at our place. KINO SHIELD decomposes polluting materials including bacteria, virus and etc. by the effect of photocatalysts, and the effect lasts for about a year.
We are offering the coating service as a franchisee of KINO SHIELD. For more information of our coating service: https://spicy.co.jp/koukin/ (Japanese)
2021.06.20
We are offering a 10% discount on bike repair and maintenance (excluding parts) until the rainy season is over. Come get your bike checked and ready for the summer!
2021.06.10
SPICY Iwatake will be closed from June 14 - 16, 2021, due to temporary closure of Iwatake Gondola Lift for maintenance purpose. Meanwhile contact us via web form:
https://spicymtb.com/en/contact/
or call our Wadano location: 0261-72-2857
2021.04.26
SPICY IWATAKE opens on April 29 for the 2021 summer season.
Located at the bottom of Hakuba Iwatake, we offer MTB rentals, tours and lessons. It's definitely a great time and place for beginners and those who have been interested in MTB riding!
HOURS: 8:00AM - 5:00PM
2020.11.11
SPICY Iwatake is closed for the 2020 green season.
Thanks a lot to everyone for coming!
2020.07.27
City Bike Rental Service for Residents and Long Term Visitors in Hakuba:
 
◆Price
3 Days ¥5,000
7 Days ¥8,000
1 Month ¥10,000
 
◆Delivery
We deliver anywhere in Hakuba Village for free during operation hours:
8:00 am - 5:00 pm
 
◆Contact
Email us via contact form >>HERE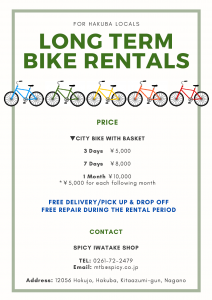 2020.05.31
We are returning to normal operating hours starting June 1st.

◆Hours 8:00 am - 5:00 pm
◆Operation
・Bike Rentals (MTB/city bikes)
・MTB Sales
・Bike Repair & Maintenance

◆Contact
https://spicymtb.com/en/contact/